about

hotel
The Roseate New Delhi is a one of its kind urban resort with 8 acres of verdant green and water bodies which fuse seamlessly with award winning architecture.
It is the epitome of luxury and hospitality that offers an indefectible escape from tedious city life. One of the top hotels in Delhi, The Roseate is only a few minute's drive from the Indira Gandhi International Airport, New Delhi, shopping malls, embassies and the corporate hubs of Delhi and Gurugram.
Inspired by the five elements of Hindu philosophy – air, water, fire, earth and sky, internationally acclaimed architect Khun Lek Bunnag conceived the design of this luxury resort in Delhi. A calming sense of wellness and tranquillity transcends the very moment you enter. Nestled amidst landscaped gardens with lush trees, songbirds, majestic colonnades that are a mnemonic of the royal lineage of Delhi and serene waterways which journey along the length of the resort, this is a perfect getaway from busy urban life.
The exclusive design elements at the resort include intricate bronze meshwork in the guest areas, doors that rise as high as 20 feet, high dome ceilings and aristocratic Isfahan pillars fused with a five century old Moghul architecture. A staycation at The Roseate New Delhi is best described as a retreat or as a relaxing getaway at this luxury accommodation in New Delhi. To perpetuate this feeling of unparalleled calm and tranquillity 650,000 brass ficus leaves adorn the towering walls of the entrance courtyard, not only as a design element but to act as insulators to the myriad sounds of the city.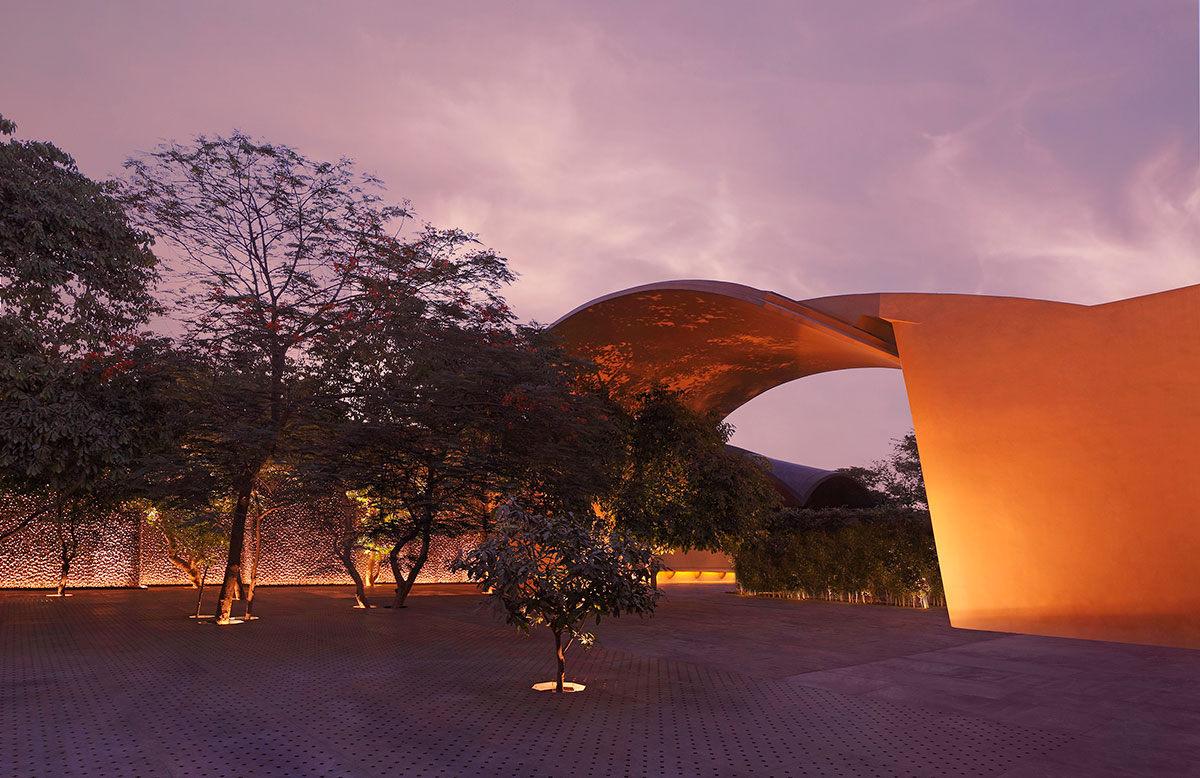 Also distinguished as one of the best hotels near the airport, this luxury resort in New Delhi houses elegantly furnished and well-appointed rooms & suites, an exquisite spectrum of food and beverage selections across its dining concepts. The resort's elegant banquet spaces and picturesque outdoor settings make The Roseate New Delhi, a breath taking location for weddings and memorable private events.
To ensure an unforgettable experience at The Roseate New Delhi, the resort offers a selection of lifestyle experiences. Guests can enjoy a botanical journey around the resort, wake up to a reinvigorating session of yoga with our trained fitness experts or visit the temple at the estate to participate in the evening ceremony.
Experience the unimagined at The Roseate New Delhi and immerse in an unmistakable sense of mental, spiritual and physical wellbeing. Outdoor excursions, curated by our Lifestyle team include a visit to the ramparts of old Delhi to experience the capital's heritage, a game of ice skating at the hospitality vertical's own ice skating arena, ISKATE. A road trip to one of the seven wonders of the world the Taj Mahal, Agra in a luxury car, complete with picnic baskets can also be booked on request.
---
To know more about the hotel, our dining spaces, unique amenities and services, please refer to our Factsheet.
+91 11 33552211 | +91 11 25660666 +91 9773986654