LUXURY

suites
Roseate House New Delhi offers a collection of 15 luxury suites. These suites include: the Executive Suite for individuals or couples, Panoramic Suite, which has a 180-degree view of the international airport runway, Corporate Suite designed for business travellers, The Junior Suite and The Terrace Suite, which offers an outdoor terrace, Roseate Suite, equipped with a private rooftop pool and The Villa, which combines the Junior, Terrace and Roseate Suite for hosting large families and premiers.
CHAPTER 4: EXECUTIVE SUITE
The Executive Suites at Roseate House New Delhi cater to both business guests and recreational travellers. Covering a 40 sqm area, these suites have wooden flooring, recessed lighting, high-powered multimedia panel, LED television and a luxurious four-fixture bathroom. Guests at the Executive Suite have access to a personal butler and exclusive access to the Club Lounge facilities such as cocktails and hors d'oeuvres.
CHAPTER 5: PANOROMIC SUITE
The Panorama Suites have been designed for guests who seek spacious interiors. The 45 sqm suite entails a lavish bathroom and bedroom with a swivel LED television. Apart from luxurious amenities, guests can avail personalised service and access to the Club Lounge. Panorama suites at Roseate House New Delhi offer a 180-degree view of the airport runway.
CHAPTER 6: CORPORATE SUITE
The Corporate Suites are luxurious suites spread across 60 sqm. These include a spacious living area with contemporary amenities and a large bathroom where guests can opt for a hot bath or rain shower. The Corporate Suite has marble floors and walk-in closet with space for a long stay. Guests staying in Corporate Suites have access to the bespoke services of the Club Lounge.
CHAPTER 7: JUNIOR SUITE
Tucked away in the tranquility of the 6th floor, the Junior Suite exudes opulence at Roseate House New Delhi. With captivating hues, exclusive art pieces, bespoke furnishing and a strategic placement, the Junior Suite ensures privacy, sound sleep and relaxation for jetlagged guests and business travellers. Covering a 76 sqm area, the suite entails all the modern facilities and amenities as well as a large living room, bedroom, workstation and a commodious bathroom.
Junior suite guests have access to all the services of the Club Lounge.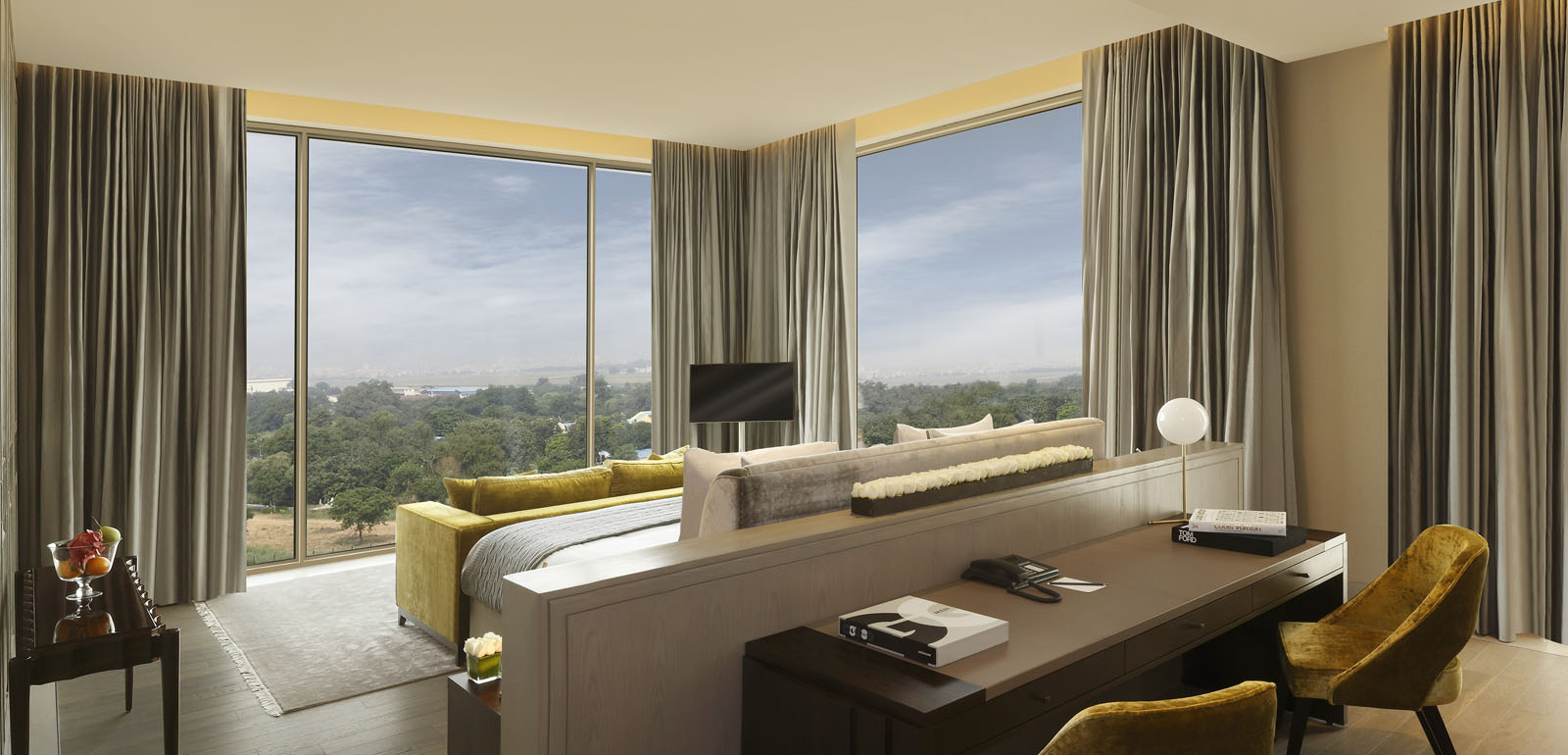 CHAPTER 8: TERRACE SUITE
With sleek oakwood floors, elegant interiors and contemporary amenities, the Terrace Suite is all about luxury. The suite has a master bedroom with a king-size bed, a spacious walk-in closet, feature rich workstation and an elegant dining area. The unique character of the suites is defined by the enormous windows draped in earthly toned linen which open to a spacious terrace, allowing natural light into the room. The Terrace Suite emits an ambience of warmth and charm with tastefully furnished décor.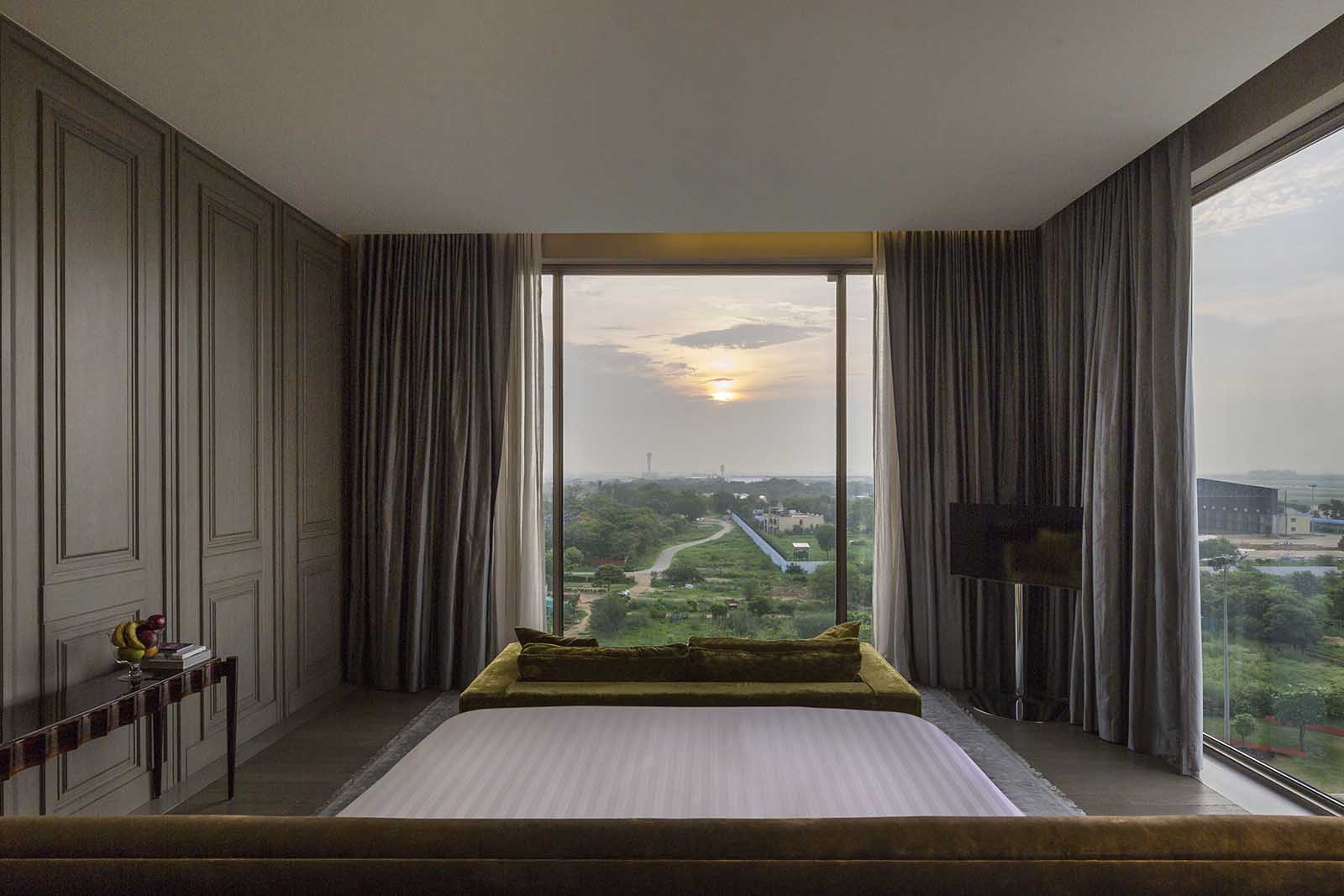 CHAPTER 9: ROSEATE SUITE
Roseate Suite encompasses 290 sqm of bespoke luxury. The suite consists of two interconnecting master-bedrooms, a fully equipped pantry for in-suite service, elegant living, dining area and a separate study. The Roseate Suite opens to an outdoor, temprature controlled private pool with an open deck that offers an extended view of the airport runway at a distance. With Italian marble floors, it has a large bathroom with twin shower rooms with steam and a walk-in closet. The suite's amenities include an LED television and a well-designed efficient workstation. Apart from the striking facilities, the suite also off ers the services of a personal butler round-the-clock for making your stay indulgent and memorable.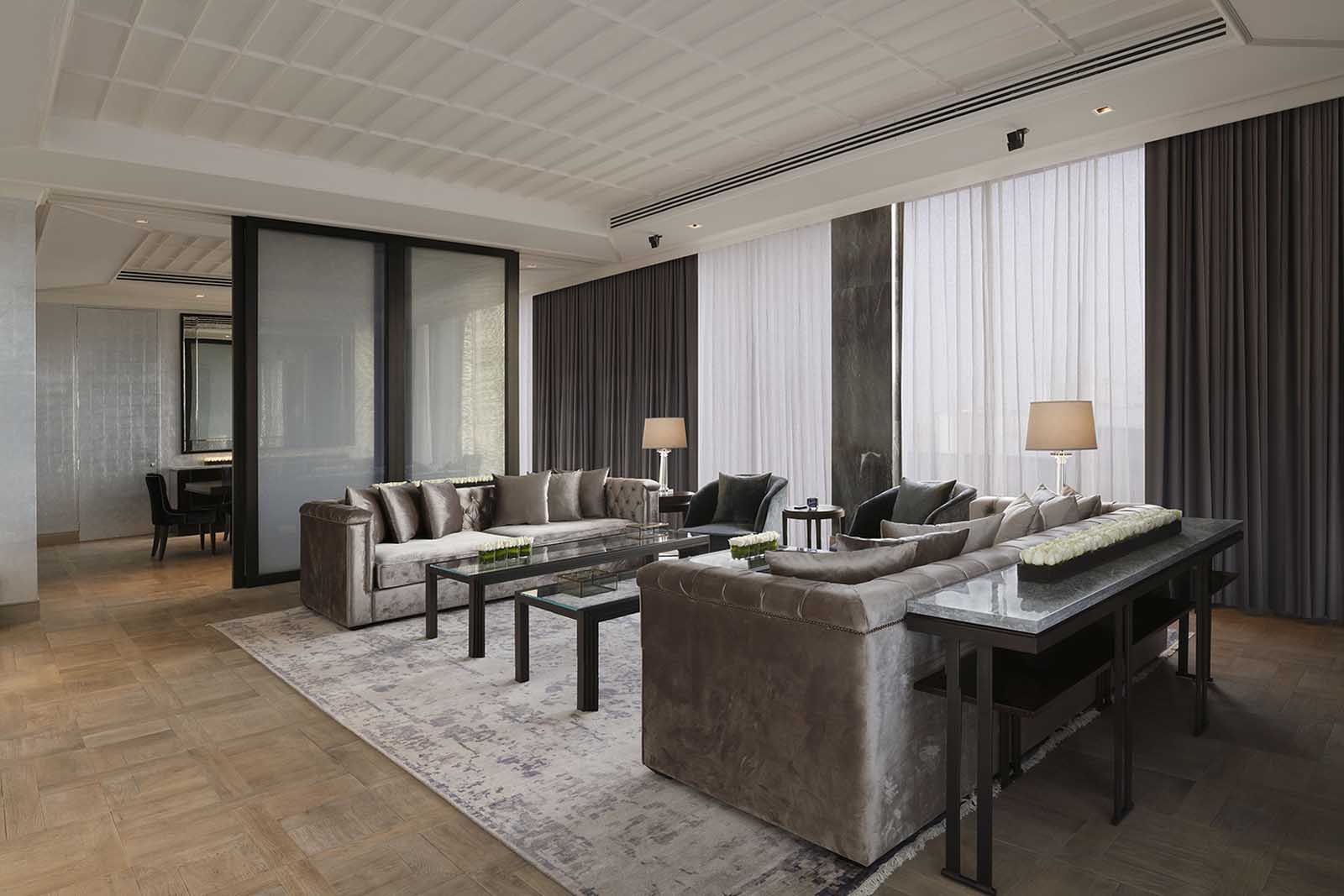 the villa
Spread across an extensive 500 square meters in space, The Villa is an opulent haven perched on the top most floor of the hotel combining Roseate Suite, Terrace Suite, Junior Suite and a Club Room.
Ideal for hosting premieres and large families alike, this elaborate sanctuary boasts of fluid marble flooring, Oakwood flooring, state of the art amenities, designer interiors complemented with a fine view of the region.
Personal touch is ensured with round the clock private butler service and undisputed access to the Club Lounge. An experience not to be missed, The Villa lets you live the idiom of style and verve.